Let's Laugh is a purpose driven social enterprise dedicated to providing simple, effective, evidence-based programs to organisations that care about the health and well-being of their staff, clients and community members.
All our immersive, interactive, evidence-based programs are founded in our Chief Happiness Officers' background of psychology, neuroscience, humour as therapy, western and eastern meditation and mindfulness, yoga, human movement and laughter yoga.    
About our Chief Happiness Officer Bron Roberts:
In the 1970's Bron was the office administrator in a high-care rehabilitation centre.  Her ability to inspire, motivate and bring a sense of joy to anxious clients caught the attention of management, and she was trained to run the new (and at the time, somewhat controversial) meditation, mindfulness and emotional intelligence based program, known at the time as the conscious awareness program.  Anything but quiet, her version of the program was presented in a way that fostered true connection and compassion and often filled the training room with laughter.  Many of her clients called her their accidental joy coach.  
With over a decade of experience helping others navigate what were some very turbulent waters in their life journey, Bron was surprised and disappointed to discover that she was totally unprepared for the difficulties of caring for a loved one, calling time and time again on her conscious awareness skills as her tools for coping with her role as the primary carer for her mother.  A role that, when her mother was gone, drove her to support other carers so they wouldn't have to experience the burnout that had plagued her journey.  Her early talks, titled 'permission to play, how to find moments of joy in the most difficult of times' proved overwhelmingly popular and set her on a life path that she could never have imagined. Little did she know that it was not only carers who appreciated new ways to mitigate burnout.  Within a year of her first nerve-filled talk, Bron was sharing her popular programs in workplaces and with conference groups around Australia.   
In 2002 Bron trained as one of the world's first fully certified Laughter Yoga Leaders and Teachers with Laughter Yoga International, and to support the movement aspect that forms a part of Laughter Yoga completed the Lakshmi Voelker Chair Yoga teachers training program.  She also updates her meditation and mindfulness training qualifications on a regular basis and has even trained as a Laughter Boss through the Humour Foundation. 
To support all the fun with a bit of academia, Bron completed a Bachelor of Psychological Sciences through Swinburne University, is Australia's only Certified Humour Professional, having completed the 3-year post-graduate diploma in humour as therapy through the University of Oregon (USA) and the Association for Applied and Therapeutic Humor (AATH.org).  She's a graduate of Dr. Sarah McKay's Brain (neuro-science) Coaching Bootcamp, Russ Harris's Introduction to Acceptance and Commitment Therapy for Professionals, Rick Hanson's NeuroDharma program, and the Science of Happiness and Positive Psychology through the Greater Good Science Centre at the University of California - Berkeley.  She's even studied Gross National Happiness (GNH) at the GNH Centre in Bhutan.
In her spare time (yes, she actually has some) she's the mother of two wonderfully successful adult daughters, a (sometimes reluctant) cyclist (being married to an avid one), a communication and public speaking teacher and mentor, a Toastmasters champion speaker, a passionate traveller, an avid reader (mostly of relevant research reports), a community volunteer, a supporting facilitator for a number of wellbeing studies, a contributing author to several wellbeing publications, and the Laughter expert of choice for a number of media outlets.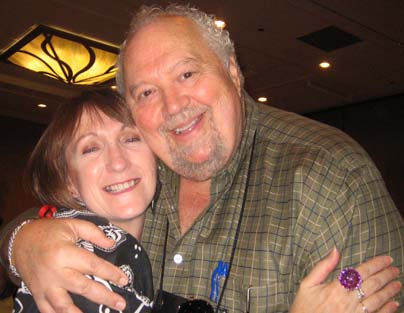 Steve Wilson - founder of the World Laughter Tour and Bron's mentor and friend.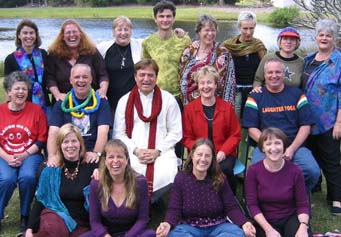 2002 - Bron Graduates as one of the world's first fully certified Laughter Leader Trainers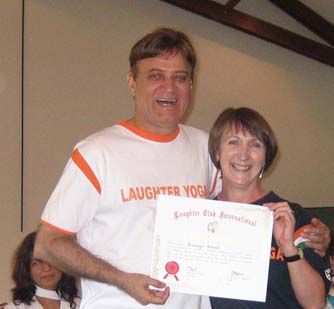 2006 - Madan Kataria awards Bron her certificate having named her as one of Laughter Yoga International's first Global Laughter Yoga Ambassadors.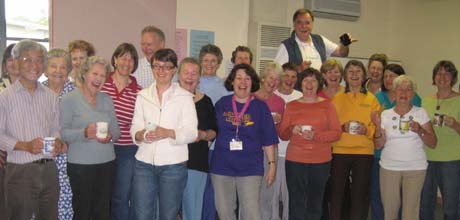 When it all started in 2004 little did Bron know that Mitcham Community Laughter Group would still be meeting every Saturday in 2023!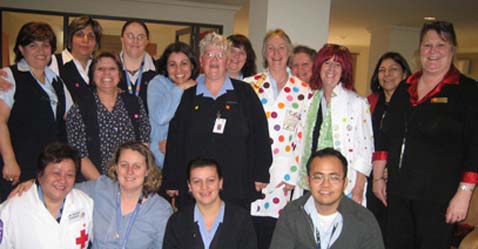 16 happy new laughter leader graduates ready to share the laughter in Arcare Age Care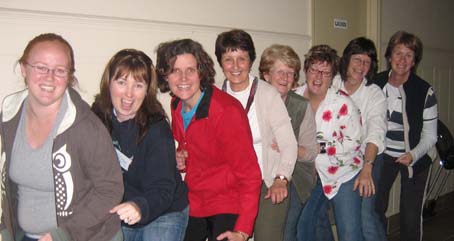 8 newly minted laughter leaders ready to share the laughter in the Maroopna / Shepparton area.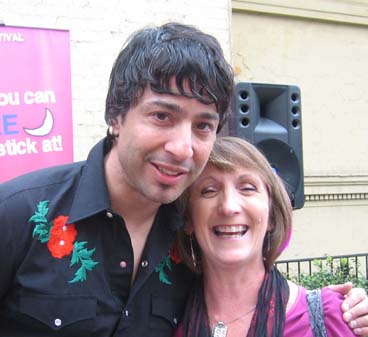 Bron and Comedian Arj Barker at the launch of the Melbourne Comedy Festival Program and media campaign.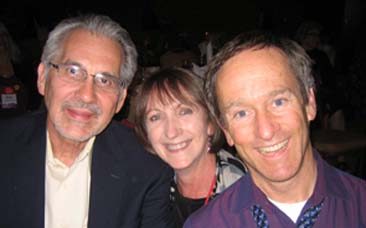 Bron shares a laugh with the world's leading laughter researcher Lee Birk (left) and Laughter Master and founder of the Laguna Beach Laughter Club Jeffrey Briar (right)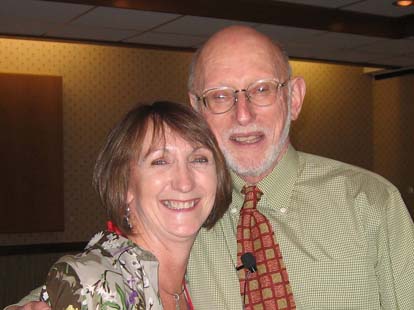 2009 - The first of many meetings with brilliant author, and now friend and mentor, the wonderful Allen Klein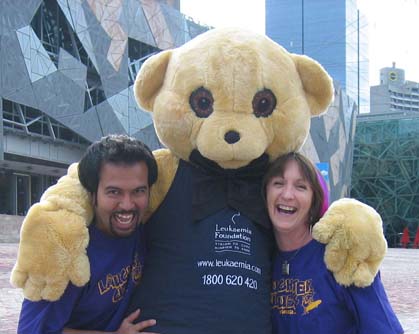 Bron and Brian sharing a hug and a laugh with the Leukaemia bear at a Leukaemia foundation laughter fundraiser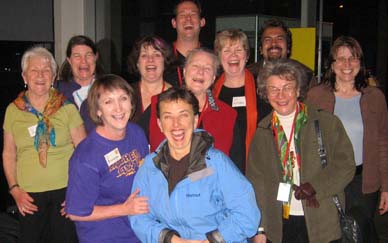 Tracey Harvey, radio personality, singer and actor, shares a laugh just before this crazy group takes the laughter live to air at ABC 774 Melbourne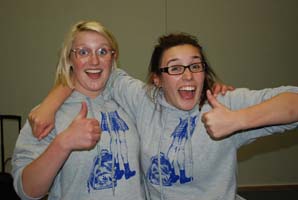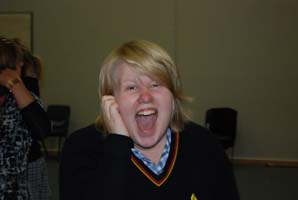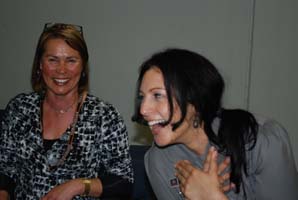 Staff and students at Toorak College enjoy a good laugh.  Bron has been back to the college several times!